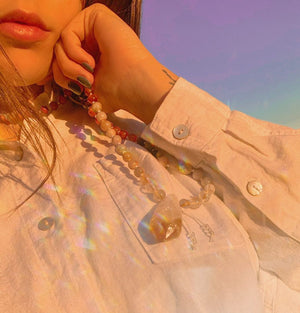 Canadian sourced holistic genuine crystal and gemstone jewelry and 108-bead meditation malas.
Valla's Malas is a lifestyle brand motivated to helping individuals find their inner peace. Each piece is hand-crafted and infused with Reiki to suit your unique spiritual journey.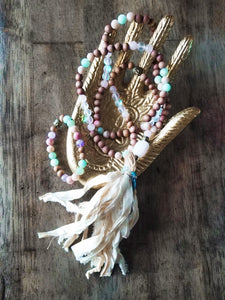 Custom "PEACE"


Work with me to create the perfect "PEACE" for you.

Here is a little insight into my custom process when creating. 
My first question is always, What are you looking to manifest in your life?

After receiving your insights, I will do some research on which crystals and gemstones would benefit you.
Using intuition and the pendulum the best crystals and gemstones are selected for your healing journey. 
Through pictures, we will communicate the next steps to customize and complete your "Peace"
PICK YOUR PEACE
"Meditate, visualize and create your own reality and the universe will simply reflect back to you"
- Amit R
Kind, sweet words people have shared about Valla's Malas.

I've been purchasing from Valla's Malas for about 4 years now. I wear my pieces daily. Each one has a special place in my heart and a purpose for why I choose to wear it that day. You can tell just by the feel and vibration fro them that they are charged with the best energy and made with love. I've purchases pieces of hers that were pre-made at markets and shows. I have also had her make various custom pieces for me as well as gifts for my friends and family. Ive seen her pieces bring so much love, peace and healing to so many clients and friends over the years that I decided to ask her if I could carry her line in my store for my clients to purchase.
Brooke Mullett
"I have a number of pieces and the energy that emanates from them is amazing. I asked Valla for a "peace" for a specific purpose and she knew exactly what to make for me. I love it!!! She really knows her crystals and what healing properties they possess. She's such a pro."
Kathy

"I love Valla's Malas! I have found Valla so knowledgable with crystals and their meanings, and how they can help. I find that is the key to finding a piece that works energetically for me. On top of that, the quality of her malas are just as important and her passion shines through! Love, love, love Valla's Malas and you will too."
Darcelle